What is a currency exchange agency ? - Godot et Fils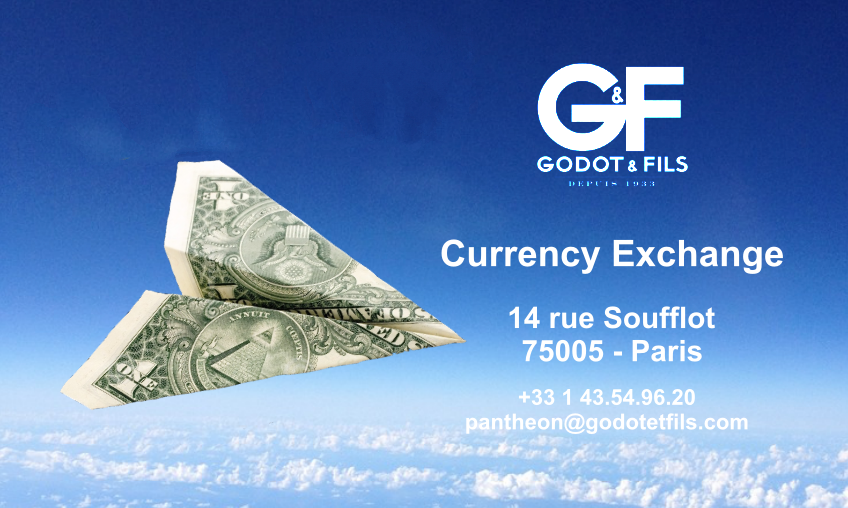 A currency exchange agency is a business to buy and sell currencies. It is more accurate to change money in that business comparing to bank ; it is their main business.
The advantage changing money is the quantity always available, the good rates. An exchange will accept notes ; but not coins.
It is a good idea to get cash when you arrive in a country for the first days. Changing moneys a very simple trade to do.
Nous rejoindre (plan google map) : https://www.google.com/maps/place/Godot+et+Fils+Paris+Panth%C3%A9on+(Achat+%2F+Vente+Or+et+Argent+%2F+Bureau+de+change),+Rue+Soufflot,+Paris/@46.179307,6.127334,15z/data=!4m2!3m1!1s0x47e6716024462a0f:0x4b5ee35fcffe82b2?hl=fr
Itinéraire mappy: https://fr.mappy.com/poi/4d6c311bfc69250755c60dd7
Notre page google : https://g.page/godotetfils?share
Notre site internet : https://pantheon.godotetfils.com
Twitter : https://twitter.com/godotetfils
Linkedin : www.linkedin.com/in/godotetfils
Instagram : https://www.instagram.com/godotetfilsparis/?hl=fr
Facebook : https://www.facebook.com/mathieu.godot.7
PagesJaunes : https://www.pagesjaunes.fr/pros/07136689
Pinterest : https://www.pinterest.fr/godotetfils
YouTube : https://www.youtube.com/watch?v=uVqXmRftoug
Currency exchange Paris 1, Currency exchange Paris 2, Currency exchange Paris 3, Currency exchange Paris 4, Currency exchange Paris 5, Currency exchange Paris 6, Currency exchange Paris 7, Currency exchange Paris 8, Currency exchange Paris 9, Currency exchange Paris 10, Currency exchange Paris 11, Currency exchange Paris 12, Currency exchange Paris 13, Currency exchange Paris 14, Currency exchange Paris 15, Currency exchange Paris 16, Currency exchange Paris 17, Currency exchange Paris 18, Currency exchange Paris 19, Currency exchange Paris 20
#currencyexchange #exchangecurrency #currenciesexchange #exchangecurrencies #usdollar #dollarUS #USD #sterlingpound #poundsterling #GBP #canadiandollar #dollarcanada #CAD #swissfranc #francswiss #CHF #japaneseyen #yenjapanese #JPY #chineseyuan #yuanchinese #CNY#changeeuroendollarparis #changedollareneuroparis #changelivreeneuroparis #changeeuroenlivreparis #changefrancsuisseeneuroparis #changeeuroenfrancssuisseparis #changeeuroenyenparis #changeyeneneuroparis #changeeuroenyuanparis #changeyuaneneuroparis #changeusdeneurparis #changeeurenusdparis #changegbpeneurparis #changeeurengbpparis #changecadeneurparis #changeeurencadparis #changechfeneurparis #changeeurenchfparis #changejpyeneurparis #changeeurenjpyparis #changecnyeneurparis #changeeurencnyparis #convertirusdeneurparis, #convertireurenusdparis, #convertirgbpeneurparis, #convertireurengbpparis, #convertircadeneurparis, #convertireurencadparis, #convertirchfeneurparis, #convertireurenchfparis, #convertirjpyeneurparis, #convertireurenjpyparis #convertircnyeneurparis, #convertireurencnyparis